Our Services
Nice Touch Solar Screens offers affordable and professional custom Solar Screen installation and uses only durable and tough PHIFER SunTex® brand synthetic fabric made of PVC coated polyester. Designed to reduce heat transfer through windows, this fabric also reduces the glare and harmful rays from the sun. While blocking the sun's rays, Solar Screens will reduce energy costs and provide protection for your indoor furnishings and is flame resistant and fade resistant. Excellent for daytime privacy without blocking the view. PHIFER SunTex® 80 Solar Screen blocks up to 80% of the sun's rays, and PHIFER SunTex® 90 Solar Screen blocks up to 90% of the sun's rays. All of our custom screens include 2 tension springs for your convenience. We can also provide window washing services at the time of the custom Solar Screen installations.
---
Fabric Colors - PHIFER SunTex® comes in a variety of fabric colors that are offered in both 80% and 90% UV protection. You can choose from a variety of fabric colors that add terrific accent your windows and home, and add curb appeal to your home exterior.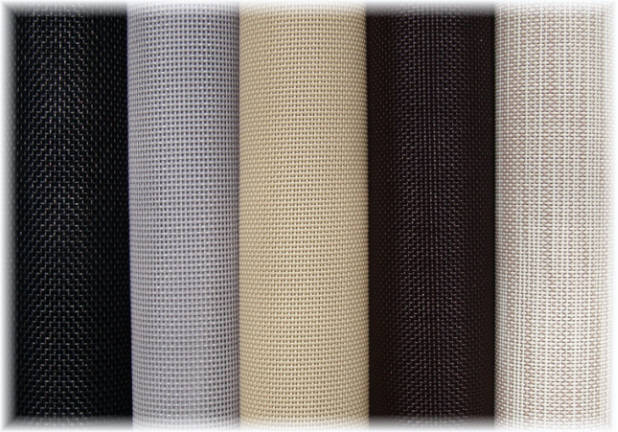 ---
Frame Sizes - Our custom window screen frames are avialable in several sizes to fit your needs. Our 1" wide frames come in a standard 5/16" thick frame, or heavier 7/16" frame for very large screens when no crossbar is desired. The heavy gauge rolled aluminum screen frames are available in the following sizes: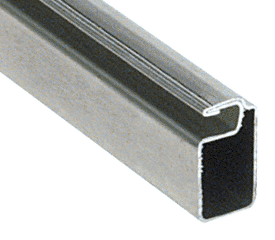 ---
Frame Colors - Our custom made frames are available in a variety of colors to match your existing home decor.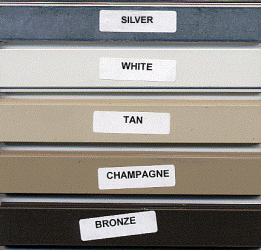 ---
Additional Options - To really make you home stand out we offer custom gridwork and bends in our Solar Screens and can match any window size and shape.
Colonial Gridwork

Rakehead Arches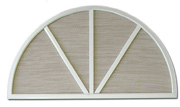 Octagon Shapes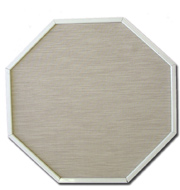 Tombstone

---
Window Cleaning - We offer professional exterior window washing prior to our Solar Screen installations. The original screens are first removed and the windows (including all of the tracks and frames), and are rinsed and brushed with a water solution. The windows are then rinsed again using a high quality window solution to provide a long lasting clean. Finally, the windows are wiped with a squiggy to prevent streaks and smudges and provide a beautifully clean transparent window.